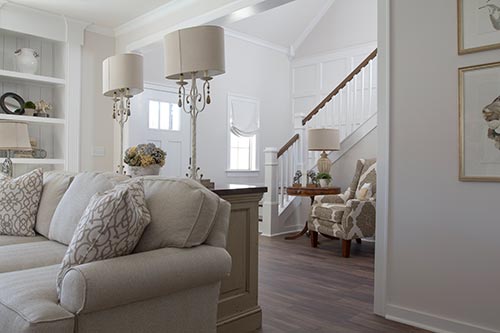 Yes – The rumors are true. Obtaining a pre-approval letter prior to shopping for a home is a major advantage. It can be a competitive market in [area], and getting pre-approved gives you buying power and can put you in control of the process.
How? Here are 6 reasons why a pre-approval is so powerful for a home purchase:
Buying Power #1: You Get an Expert on Your Side
By working with me at the beginning of your home buying process, you'll have an advocate working for you. Don't be afraid to ask plenty of questions about every step before and after the pre-approval. I'll help make sure you meet any special loan requirements and give you a head's up when you look at a home that might be questionable.
Buying Power #2: Your Budget is Set
Imagine that you're looking at houses and you fall in love with one. Then after negotiating the offer you find out you don't qualify. It's heart breaking. When house hunting with pre-approval letter in hand, you will know your budget and you can then search for homes within that price range. No wasted time. No disappointments.
Buying Power #3: You Will Reassure Sellers
Sellers want buyers who are serious and can close deals. Buyers without a pre-approval letter can be a risk for any seller. A seller is more likely to accept your offer before others because they know your offer is close to a sure thing. This is a big advantage in our competitive market when there are a number of buyers bidding on the best properties. A pre-approval can move your offer to the top of the list.
Buying Power #4: You Can Negotiate
When you have a pre-approval letter, it gives you and your agent a lot more clout when it comes to negotiating with the seller, vastly improving the odds of you getting the house you want.
Buying Power #5: A Real Estate Agent Will Work Harder for You
A Realtor earns their fee when a home sells. If the deal doesn't close, there is no commission. A good agent will go above and beyond for a well-qualified buyer that is a pre-approved. Since you already have a relationship established with VIP Mortgage, I can work closely with your agent to ensure that the homes you look at will pass any specific loan eligibility requirements for the property or [area].
Buying Power #6: Your Closing Is Smoother
The pre-approval process involves pulling together all of the income documentation, credit reports and any other information needed to establish how much you should be able to borrow at the start of the process. This may also save time at closing because we have started the paperwork process and may only need a few more things from you at the end to finalize things.
Now that you have a better understanding of the advantages and power a pre-approval gives you, call me at 480-553-8444 or email me at mmetz@vipmtginc.com to get the process started. I look forward to working with you and putting the buying power in your hands!
Categorized in: Mortgage